B1 Free Archiver
B1 Online - extract from archives online
Unzip & unrar files in one click
Excellent and fast compression
Simple and friendly utility
Open .zip .rar .7z .b1 and more
How to compress files into zip archive with 3 clicks
Click 1
Choose files or folder you want to zip and right-click on them to open standard context menu.
For example, let's take birthday party folder. Right-click on it and select Create archive option.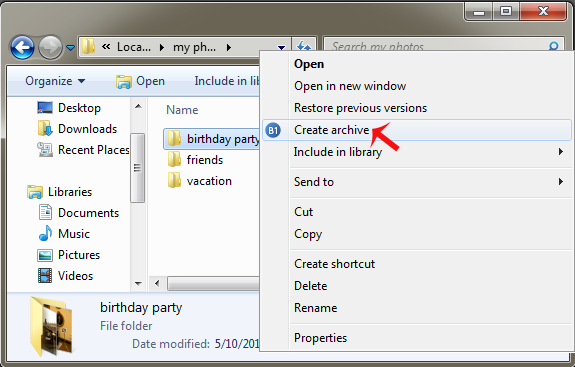 Click #2 and #3
Choose ZIP in the Archive format field. Click Start or press Enter in the dialog window to get started then.
Also you can rename the archive, but it's optional.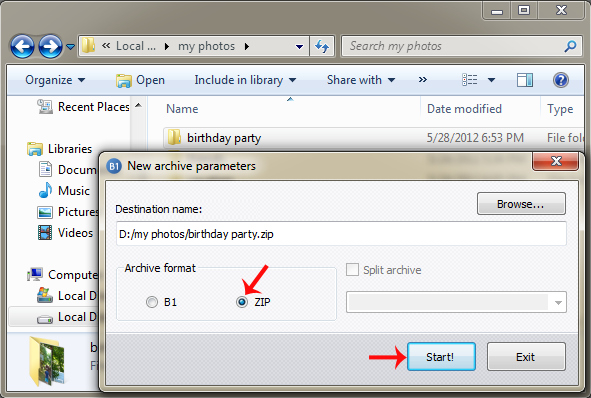 Now just wait for a while…
Just wait for a few seconds while B1 is packing files into the zip archive.
...and it's done
You've created archive birthday party.zip, now you can send it via e-mail or Skype. You can check the content of birthday party.zip file just double-clicking on it.
You can easily find zipped files and other archives at your computer as they have nice round blue icons.
Download

B1 Free Archiver

for Windows
B1 Free Archiver works with most popular archive formats. It's a single utility for almost all archives you will ever need. Although there are a lot of functions and features, B1 stays extremely simple to use and never bothers you with unnecessary stuff. It takes just a few clicks to extract files or to create new archive.